Come on
England/GB have not won a major international RL tournament for forty one years but after their performance against NZ on Saturday
who knows
For once the English players lived up to their potential and reproduced club form. They have improved week by week and showed confidence, aggression, control and discipline. The bounce of the ball admittedly went their way and for once they got a fair shout off the referee. If they can continue this against Australia
maybe just maybe
Everybody was magnificent but I would single out Ben Westwood for his 100% commitment and effort. NZ played with spirit as you would expect but the partisan Hull crowd made a big contribution and acted as an eighteenth man. Another neutral referee did a good job, NZ can have few if any complain and coach Stephen Kearney accepted the defeat with dignity. It bothers me that somebody like Gareth Carvel who had a great season for Warrington but has not played for five weeks must've found it very difficult to come into the team such an important match. Surely some mechanism can be found to allow fringe players to maintain fitness and demonstrate some form.
Sam Tomkins was very fortunate that the Kieren Foran try was disallowed for offside and we must be on our guard early on because Australia often blow teams off the park in the early stages. Look what they did to Wales!!!!!
England/GB fans have built their hopes up before and had them smashed to pieces but it will be all down to who performs on the night, who wants it more, possibly the bounce of the ball or maybe a dodgy refereeing decisions. Heaven forbid
I'm looking for somebody to stand up and make a name for himself
Where are you now Clive Sullivan, Alex Murphy, Roger Millward .... Sam Tomkins, Kevin Sinfield, Ryan Hall???.
Come on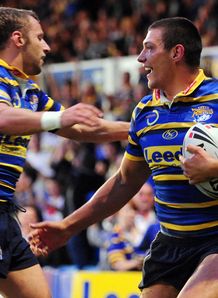 Ryan Hall